NEWSMAX
NC University Bans Chick-Fil-A
August 13, 2012
Davidson College in North Carolina is banning Chick-fil-A, becoming the first in the nation to do so, The Huffington Post reports.
Students began a protest and collected nearly 500 signatures in an online petition calling for the school to stop serving Chick-fil-A at campus sanctioned events
Davidson doesn't have a Chick-fil-A on campus but the company's food was served on campus events occasionally. Some colleges have protested the restaurants being on campus but none has banned the business.
In a statement to the univeristy community, Union Board President Adriana Nassar and Vice President Cameron Joe, said:
"We reached out to the Union Board members to begin initial conversations but because the board operates on consensus decision-making, a final decision is being put off until we can have face to face conversations and gather more student input. Until a final decision is made, alternative options will be served at After Midnight and other Union Board events. The Davidson College Union Board is firmly committed to building an inclusive community that serves each member of our student body."
Read more:
http://goo.gl/fnokt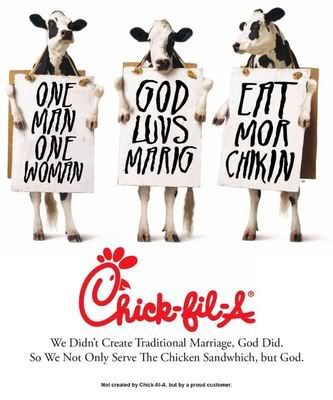 TOWNHALL
When 1,099 Felons Vote In A Race Won By 312 Ballots
by Byron York
August 13, 2012
In the eyes of the Obama administration, most Democratic lawmakers and left-leaning editorial pages across the country, voter fraud is a problem that doesn't exist. Allegations of fraud, they say, are little more than pretexts conjured up by Republicans to justify voter ID laws designed to suppress Democratic turnout.
That argument becomes much harder to make after reading a discussion of the 2008 Minnesota Senate race in "Who's Counting?", a new book by conservative journalist John Fund and former Bush Justice Department official Hans von Spakovsky. Although the authors cover the whole range of voter fraud issues, their chapter on Minnesota is enough to convince any skeptic that there are times when voter fraud not only exists but can be critical to the outcome of an important race.
In the '08 campaign, Republican Sen. Norm Coleman was running for re-election against Democrat Al Franken. It was impossibly close; on the morning after the election, after 2.9 million people had voted, Coleman led Franken by 725 votes.
Franken and his Democratic allies dispatched an army of lawyers to challenge the results. After the first canvass, Coleman's lead was down to 206 votes. That was followed by months of wrangling and litigation. In the end, Franken was declared the winner by 312 votes. He was sworn into office in July 2009, eight months after the election.
During the controversy, a conservative group called Minnesota Majority began to look into claims of voter fraud. Comparing criminal records with voting rolls, the group identified 1,099 felons -- all ineligible to vote -- who had voted in the Franken-Coleman race.
Minnesota Majority took the information to prosecutors across the state, many of whom showed no interest in pursuing it. But Minnesota law requires authorities to investigate such leads. And so far, Fund and von Spakovsky report, 177 people have been convicted -- not just accused, but convicted -- of voting fraudulently in the Senate race. Another 66 are awaiting trial. "The numbers aren't greater," the authors say, "because the standard for convicting someone of voter fraud in Minnesota is that they must have been both ineligible, and 'knowingly' voted unlawfully." The accused can get off by claiming not to have known they did anything wrong.
Read more:
http://goo.gl/6xhz8
AMERICAN THINKER
Obama's Strange Dependence on Valerie Jarrett
by Karin McQuillan
August 14, 2012
President Obama canceled the operation to kill Osama bin Laden three times before saying yes, because he got cold feet about the possible political harm to himself if the mission failed. Instead of listening to advisors from the U.S. military, Defense, or even State, Obama was acting on the advice of White House politico and close friend Valerie Jarrett. Valerie Jarrett?
This account comes from Richard Miniter's upcoming book Leading From Behind: The Reluctant President and the Advisors who Decide for Him. Miniter has written a half-dozen books on the war on terror. He is relying on an unnamed source within the U.S. military Joint Special Operations Command who was directly involved in the operation and planning of the Osama bin Laden kill mission.
Is the story credible? According to Edward Klein, a reporter once asked Obama if he ran every decision by Jarrett. Obama answered, "Yep. Absolutely."
Edward Klein, former foreign editor of Newsweek and editor of the New York Times Magazine for many years, describes Jarrett as "ground zero in the Obama operation, the first couple's friend and consigliere." Klein -- who claims he used a minimum of two sources for each assertion in his book on the Obama presidency, The Amateur -- writes in detail about Jarrett opposing the raid on bin Laden. She told Obama not to take the political risk. Klein thought Obama ignored Jarrett's advice. Miniter tells us he listened to her, three times telling Special Operations not to take the risk to go after bin Laden.
We need to understand the role Valerie Jarrett plays in Obama's private and political life.
"If it wasn't for Valerie Jarrett, there'd be no Barack Obama to complain about," starts Klein's chapter on Jarrett. He quotes Michelle Obama on Jarrett's influence over her husband: "She knows the buttons, the soft spots, the history, the context."
No one outside Michelle has the access or power over Obama's decision-making like Jarrett does. Here's an odd little fact that gives some insight into what kind of president Obama is: Michelle, Michelle's mother, and Valerie, and only a few others in Washington, are allowed to call Barack by his first name. After work, Jarrett joins Obama at night in the Family Quarters, where she dines often with the First Family. She goes on vacation with them.
Read more:
http://goo.gl/uTqxD