TOWNHALL
Enthusiasm, Excitement, and Ron Paul: The Young GOP Delegates
by Kevin Glass
August 30, 2012
Enthusiasm runs high amongst some of the younger official delegates to the GOP 2012 convention. They stand out in the crowd of predominantly older Republican activists by their brisk pace and infectious energy.
Another way they're easily distinguishable: they are on the Ron Paul team in far greater numbers than their older colleagues. They were also in a hurry - Wednesday night's activities kicked off with a Ron Paul tribute video, and Sen. Rand Paul spoke shortly afterwards.
Luis Larotta, a young Ron Paul-supporting delegate from Texas, said "we're the new face of the party. We're the new blood, and we have a lot more in common than people make it out to be."
While every delegate pledged to support the Romney-Ryan ticket in November, there was a distinct tenor that the Republican Party was risking its cachet with an energetic base by ignoring the Paul partisans.
Tom Bolling isn't a Ron Paul supporter, but what drives him nonetheless is shrinking government and individual liberty. "There's been a very strong movement within the Republican Party for smaller government and more limited government, and that's popular with a lot of young people these days," he says. Bolling is a 22-year-old delegate attending his second convention, having been to Minneapolis in 2008. "I think you see a lot more younger delegates than you saw four years ago."
Younger delegates also see a much wider range of issues that they can agree on. "The platform is our platform," Larotta says. "95% of that platform was built by Ron Paul supporters... we're penetrating further and further into the GOP. This is our party."
Read more:
http://goo.gl/hIOdn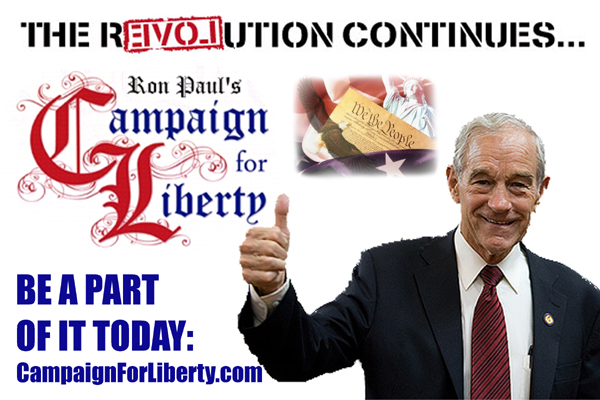 About That Fairy Tale Where Osama Bin Laden is Killed ...
The story put out by the White House about how Osama bin Laden met his end turns out to have been a nice bedtime story, but a little short on truth.
A book on the raid coming out next week tells a much different story than the "official" account put out by the administration.
AP

: A firsthand account of the Navy SEAL raid that killed Osama bin Laden contradicts previous accounts by administration officials, raising questions as to whether the terror mastermind presented a clear threat when SEALs first fired upon him.
Bin Laden apparently was hit in the head when he looked out of his bedroom door into the top-floor hallway of his compound as SEALs rushed up a narrow stairwell in his direction, according to former Navy SEAL Matt Bissonnette, writing under the pseudonym Mark Owen in "No Easy Day." The book is to be published next week by Penguin Group (USA)'s Dutton imprint.
Bissonnette says he was directly behind a "point man" going up the stairs in the pitch black hallway. "Less than five steps" from top of the stairs, he heard "suppressed" gunfire: "BOP. BOP." The point man had seen a "man peeking out of the door" on the right side of the hallway.
The author writes that bin Laden ducked back into his bedroom and the SEALs followed, only to find the terrorist crumpled on the floor in a pool of blood with a hole visible on the right side of his head and two women wailing over his body.
Bissonnette says the point man pulled the two women out of the way and shoved them into a corner and he and the other SEALs trained their guns' laser sites on bin Laden's still-twitching body, shooting him several times until he lay motionless. The SEALs later found two weapons stored by the doorway, untouched, the author said.
In the account related by administration officials after the raid in Pakistan, the SEALs shot bin Laden only after he ducked back into the bedroom because they assumed he might be reaching for a weapon.
Not a big deal. Even if, as the author says, the SEALs were told to "detain" Osama if he didn't resist, that's hardly a practical order when you're in a darkened house and a male who may or may not be armed sticks his head out of a bedroom door. Screaming "Halt! SEALs! Put your hands up!" would likely have resulted in the deaths of Americans. Better to shoot first and ask questions at the funeral.
There was also no "40 minute firefight" outside the compound. In fact, the SEALs weren't fired on at all outside of the gate.
The author also writes that the SEALs knew that Obama would take credit for the raid. And they had some choice words about their meeting with Vice President Biden:
Bissonnette writes less flatteringly of meeting Vice President Joe Biden along with Obama at the headquarters of the 160th Special Operations Aviation Regiment after the raid. He says Biden told "lame jokes" no one understood, reminding him of "someone's drunken uncle at Christmas dinner."
One thing that angered the SEALs was President Obama's promise to invite them back to the residence for a beer and never following through:
After listening to Obama's speech and enduring Biden's "lame jokes that no one got (He seemed like a nice guy, but he reminded me of someone's drunken uncle at Christmas dinner)" the president invited the team to return to his residence later for a beer.
But Owen writes a few weeks later: "We never got the call to have a beer at the White House." Joking with a fellow SEAL, "Hey, did you ever hear anything about that beer?" Walt cracks: " You believed that s**t. I bet you voted for change too, sucker."
The book sounds like it would make compelling reading. And it should be interesting to see if the press now does anything to alter the record -- and the narrative - they created over the raid.
HUMAN EVENTS
Rand Paul Speech Cannot Quell Unease Among Libertarian Delegates
by Hope Hodge
August 30, 2012
The second night of the Republican National Convention kicked off with an effort at party reconciliation: a video tribute to Texas congressman and Republican presidential candidate Ron Paul, whose loyal faction of libertarian followers have been a restless and vocal presence at the convention.
Republican statesmen including Senate Minority Leader Mitch McConnell (Ky.), Rep. Walter Jones (N.C.), Sen. Mike Lee (Utah), and Paul's son, Sen. Rand Paul (Ky.) spoke in the video, praising Paul's decades-long record of prizing values over politics and compromise, and standing by his principles.
McConnell said that Paul was the only politician he knew who was able to make a difference by making a point. Rand Paul marveled that lobbyists wouldn't even stop by his father's office, knowing his vote couldn't be bought.
The lights came up to a rousing ovation from Paul supporters around the convention hall.
Later on, Rand Paul took the stage, warming his audience to the theme of President Barack Obama's healthcare law as unconstitutional.
"Madison was unequivocal: the powers of the federal government are few and defined," he said. "How do we fix this travesty of justice? There's only one option left: we have to have a new president!"
He continued on the "we built that" message of the night before, emphasizing the importance of honoring Americans who worked hard and made sacrifices as an investment in their own success.
"To lead us forward, away from the looming debt crisis, it will take someone who believes in America's greatness, who believes in and can articulate the American dream," he said. "Someone who has created jobs, someone who understands and appreciates what makes America great, someone who will lead our party and our nation forward. I believe that someone is our nominee: Governor Mitt Romney."
Though Rand Paul has made a name for himself as a tea party senator who embraces many of the same values of his father, his message Wednesday night was a rallying cry around the values that unite Republicans of every stripe.
Still, it soon became clear that Ron Paul supporters would not be won over so easily.
While Sen. John McCain (Ariz.) delivered a speech about national security, many of them staged a walk-out, marching through the arena entrance halls and chanting, "As Maine goes, so goes the nation."
The chant was a reference to a GOP leadership move to split the Maine delegation in order to keep Paul from receiving all the state's delegates, and thus maintaining a united front for Romney. While the disruption soon quieted as the delegates moved outside, one thing became clear Wednesday night: like Paul, his supporters are not likely to be bought by the mainstream Republican party.
Read more:
http://goo.gl/EoqhQ