BREITBART
Reward: $100,000 for Khalidi Tape
by Joel B. Pollak
September 20, 2012
Breitbart News is doubling its reward--to $100,000--for one of the missing pieces of Barack Obama's past, which may be the key to understanding his collapsing Middle East policy: the "Khalidi tape," a video kept under wraps by the Los Angeles Times since April 2008.
The Khalidi tape shows Obama at a 2003 farewell party for radical Palestinian academic and activist Rashid Khalidi, and reportedly features vitriolic anti-Israel rhetoric.
Reporter Peter Wallsten--now with the Wall Street Journal--revealed the existence of the tape in an article on Obama's pro-Palestinian background. Obama's participation in the Khalidi event, Wallsten wrote, had led Palestinian-Americans to believe "that Obama is more receptive to their viewpoint than he is willing to say."
The article was not aimed at vetting Obama's past; rather, the tape was likely shared with the Times as a means of pressuring Obama by reminding him of his past commitment to the Palestinian cause as he courted pro-Israel voters and donors.
Accordingly, Wallsten seems to have revealed only enough of what was on the video to achieve that aim. While noting that some speakers accused the Israeli government of terrorism and likened Jewish settlers to Osama bin Laden, Wallsten added that Obama "adopted a different tone...and called for finding common ground."
Wallsten refused to release the Khalidi tape itself, or a transcript thereof, for readers to examine and judge for themselves.
The ties between Obama and Khalidi are deep, going back to the days when Obama served on the board of the Woods Fund with former terrorist Bill Ayers, and provided funds for Khalidi's Arab American Action Network.
The Obama and Khalidi families also developed close personal friendships, which--by Obama's own admission--affected the way he approached the Israeli-Palestinian conflict and the Middle East as a whole.
Notably, Obama's reluctance to recognize Jerusalem as the capital of Israel could reflect Khalidi's influence.
Khalidi told Israel's Ha'aretz newspaper in 2008 that his family roots in Jerusalem date back more than 500 years, and that his uncle was the mayor of Jerusalem from 1935-7, a key period in the history of the conflict.
Obama broke his 2008 campaign promise to support Jerusalem as Israel's undivided capital. His new position was reflected in the platform fight at the 2012 Democratic National Convention over changes that were likely urged and approved by Obama before controversy erupted and he intervened to restore language supporting Israeli claims.
Given Obama's muted response to the attacks on U.S. embassies and troops throughout the Middle East today; his refusal to meet with Israeli Prime Minister Benjamin Netanyahu next week; his eagerness to sacrifice Americans' free speech rights in fruitless gestures of appeasement; and his belated but effusive support for the now-radicalized Arab Spring, it is worth examining the roots of his misguided foreign policy.
The Khalidi tape may provide the key.
Read more:
http://goo.gl/OuxR8
HOT AIR
Obama: "You Can't Change Washington from the Inside"
by Erika Johnsen
September 20, 2012
Well. This is… embarrassing. During an interview with Univision and speaking to his failure to pass comprehensive immigration reform, President Obama lamented the degree to which his capability to lead and to get things accomplished in Washington has been so steadily and unfortunately put-upon, and made a rather awkward apology for his policy deficiencies.
"The most important lesson I've learned is you can't change Washington from the inside."
Hem, hem. And I quote: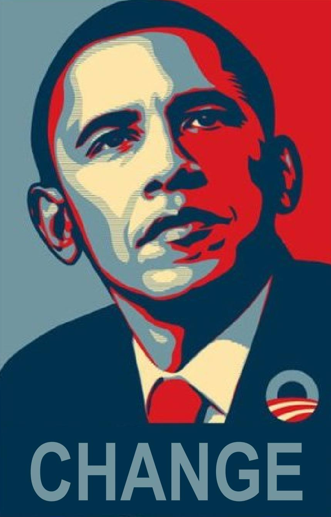 Okay, hold the phone — the President of the United States is powerless to influence Washington's inner workings? I thought that was supposed to be the entire point of America electing him? You don't think that maybe the real reason President Obama has failed to deliver on his many ambitious campaign promises — increasing transparency and bipartisanship, ending business as usual, creating jobs, and everything else that can be summed up by his erstwhile campaign slogan — could be because he finally got to Washington and figured out that, hey, actually… I'm fine with it just the way it is. Maybe?
The Twitterverse is having a grand ol' time with this one:
Obama 2008: ""We are the ones we have been waiting for". Obama 2012: "You can't change Washington from the inside." #Forward
— Little Miss Rightie (@LilMissRightie) September 20, 2012
Coming soon from Obama: "Another thing I learned is that 'hope' is a very overrated concept. People need to learn to settle."
— Just Karl (@justkarl) September 20, 2012
So he can't change it from the outside. He goes inside. All the way inside. Can't change it from the inside. What now?
— David Freddoso (@freddoso) September 20, 2012
Read more:
http://goo.gl/rF2MR