CNN Mocks Obama Camp's "Second Term Agenda" Brochure
For months, Democratic strategists have implored the Obama campaign to roll out a robust second-term agenda. Team Obama has declined, opting instead to pursue a puzzling "stay the course" message. Following the second debate, Republicans began turning up the heat on the same issue. Enter Marco Rubio:
Now that Obama has squandered his best opportunities to introduce a significant positive vision to a vast audience (the obvious settings would have been his nominating convention or any of the three debates), his campaign has finally realized that maybe an agenda would be useful after all. Thus, they've introduced a new ad, which purports to outline the president's "new" "plan." Scour this spot for something -- anything -- fresh, and you'll come up empty. In fact, as Mary Katharine Ham points out, its most striking image is the YouTube screen-shot, in which the president looks spent:
MKH's line is hilarious: "Fired up, ready to mope!" In conjunction with this TV spot, Chicago is distributing a glossy brochure to the press. Even CNN's Jessica Yellin (a thinly-disguised Obama supporter) is left asking "where's the beef?"
"I wouldn't put it that way because he put this out before; he's just never put it out in a booklet like this. We heard these same details at the democratic convention. We've heard them from his mouth on the campaign stump for days and months and weeks and so my point is there is not anything significantly new in here. It's just all compiled in a nice booklet now..."
Payments on Interest to Exceed Defense Spending by $125 Billion
In a decade, federal spending to pay for the interest on America's debt will exceed total spending on the defense budget by $125 billion, or 20 percent, according to projections from the Congressional Budget Office and the Office of Budget Management. The projections are based on President Barack Obama's current budget plan.
Here's a chart from the Republican side of the Senate Budget Committee that shows 2022 national defense spending vs. net interest payments:
In 2022, under Obama's budget, national defense spending will be $618 billion per year, while net interest payments will be $743 billion.
In fact, the interest payments are likely to be even higher, since these assumptions are based on the historically low interest rates remaining the same (which is not likely over the course of the next decade). "If interest rates rise just one percentage point above baseline projections, the government would pay an additional $1 trillion in interest payments over ten years," the Republican side of the Senate Budget Committee comments.
"President Obama's FY 2013 budget proposal has two primary impacts on fiscal policy: a $1.8 trillion increase in new taxes (twice what the White House publicly suggests) and a $1.4 trillion increase in spending above already-massive growth projections," the committee explains. "This nets a paltry $400 billion in deficit reduction over ten years, or just one-tenth of the pledged $4 trillion. As a result, America's gross debt under the President's plan, as reported by his own Office of Management and Budget (OMB), will rapidly climb $25.4 trillion in 2022—$10.6 trillion above where it stood at the end of 2011. In other words, the President's core budget claim – that he has a 'balanced' plan to reduce the deficit – is provably and outrageously false. He raises taxes to fuel a gigantic spending increase in Washington."
Overall, his budget would increase federal spending 58% - from a budget size of $3.6 trillion today to $5.9 trillion in 2022, and increase gross federal debt by 72 percent.
The result of all this debt is that interest payments on the debt are one of the fastest growing budget items. We will be borrowing money just to pay the interest on the money we've previously borrowed. By the year 2019, we will actually be paying more in annual interest payments than in annual defense spending. By the last year of the President's budget, interest payments will exceed our nation's entire defense budget by 19 percent.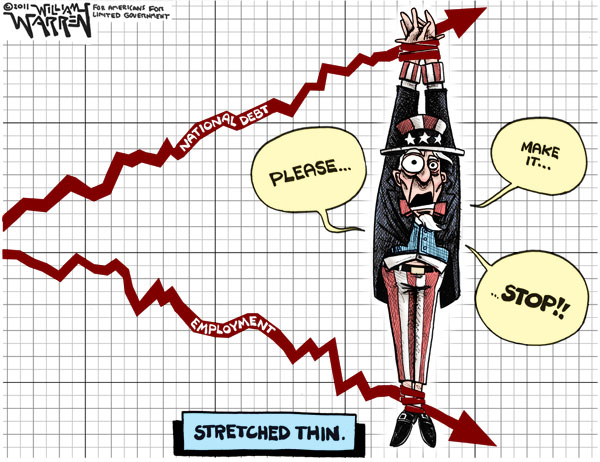 AMERICAN THINKER
Where Was Hillary Clinton's State Dept. on the Eve of Benghazi?
The question of what Hillary Clinton's State Department was busy with during the days and weeks before the September 11, 2012 terrorist strike in Benghazi, Libya needs to be asked insistently and often. What was happening at Foggy Bottom as Islamic terrorists planned the murder of United States Ambassador to Libya J. Christopher Stevens and other Americans?
We now have part of the answer.
At least some of the State Department's attention (and funds) were being spent on organizing international music tours. Clinton's staff was literally involved with fiddles (and guitars and drums) while Islamic terrorists where plotting to attack and burn the American consulate in Benghazi.
Two separate musical concert series were being planned by State at the exact same time when American diplomatic personnel in the Middle East were issuing requests for security to be upgraded at consulates and embassies in Islamic countries. There is now no doubt that their demands were dismissed far too quickly.
The State Department's Bureau of Educational and Cultural Affairs has a program, called American Music Abroad, that is tasked with sending American musicians to perform overseas. This year's tour began its concerts in the Philippines on September 11, 2012. For weeks before the attacks, some at State were working on this program.
How much time was spent on security analysis for the Philippines tour is unknown. Parts of the Philippines continue to be unsafe for Americans due to the stubborn insurgency there of al-Qaeda linked group Abu Sayyaf.
The other program the State Department was busy with before the 9/11/2012 Benghazi attack is called OneBeat (SM), started on September 10 in New York. It brings foreign music acts to the United States to tour.
OneBeat (SM) is also a project of the U.S. Department of State's Bureau of Educational and Cultural Affairs. In 2012, State was scheduled to bring 32 rock musicians from 21 foreign nations to our shores.
Read more:
http://goo.gl/9xkZs