CIA Chief Petraeus Resigns
CIA Director David Petraeus resigned as head of the main U.S. spy agency on Friday, saying he had engaged in an extramarital affair and acknowledging that he "showed extremely poor judgment."
In a letter to the CIA workforce, Petraeus, 60, said that he met with President Barack Obama at the White House on Thursday and asked "to be allowed, for personal reasons, to resign from my position."
"After being married for 37 years, I showed extremely poor judgment by engaging in an extramarital affair," he wrote. "Such behavior is unacceptable, both as a husband and as the leader of an organization such as ours."
Obama, who was re-elected to a second term on Tuesday, said in a statement that he accepted Petraeus' resignation, praising him for his work at the CIA and for leading U.S. troops in Iraq and Afghanistan.
The sudden and dramatic turn of events appeared to end the public career of a widely admired man who played a key role in the Iraq war, led the U.S. Central Command and commanded U.S. and NATO troops in Afghanistan.
Petraeus' name had circulated speculatively as a possible Republican presidential nominee before Obama tapped him as CIA chief. Before taking the CIA post, he retired as an Army general after nearly four decades of military service.
Petraeus had led the CIA for only 14 months. His sudden departure threatened to usher in a period of instability at the spy agency, which is grappling with a leveling off in its budget after a decade of steady increases.
The agency is also fending off questions about its performance before and after the attack that led to the death of U.S. Ambassador Chris Stevens in Benghazi, Libya.
U.S. officials insisted that the CIA's handling of the Benghazi incident had nothing to do with Petraeus' decision to resign.
Read more:
http://goo.gl/eTSa0
Fearing 'cliff,' investors finish brutal week
NEW YORK (AP) — Wall Street is peering over the "fiscal cliff" and feeling vertigo.
The stock market finished one of the worst weeks of the year Friday, pushing Washington to work out a deal to avoid the tax increases and government spending cuts set to take effect Jan. 1.
Remarks by re-elected President Barack Obama and House Speaker John Boehner on the looming deadline didn't do much to cheer the market. Stocks finished barely higher for the day.
Chris Bertelsen, the chief investment officer at Global Financial Private Capital of Sarasota, Fla., said he expects Congress and Obama to reach a compromise to avoid the fiscal cliff.
"But it could well be the conventional U.S. political way of doing it — the last minute type of stuff — in which case the markets will be haunted by it until the point it happens," he said.
For the week, the Dow Jones industrial average fell 277 points, or 2.1 percent. The Dow has fallen 795 points since hitting its closing high for the year, 13,610 on Oct. 5.
The S&P fell 2.3 percent during the week, its worst weekly decline since June 1, when investor concern about the debt crisis in Europe was rising.
Stocks began their slide Wednesday in the biggest sell-off of the year after voters returned Obama, a Democratic Senate and a Republican House to power. Investors immediately turned to worrying about the cliff.
If the tax increases and spending cuts take full effect, the U.S. will likely fall back into recession, the Congressional Budget Office said Thursday.
Boehner said Friday that he remains unwilling to raise tax rates on upper-income earners. But he left open the possibility of balancing spending cuts with revenue increases that come from some revisions to the tax code.
Stocks managed a small rally. The Dow was up about 30 points when Boehner started talking and about 80 points shortly after.
Then Obama said he would not accept any approach to federal deficit reduction that doesn't ask the wealthy to pay more in taxes. A spokesman later said Obama would veto legislation extending tax cuts for families making $250,000 or more.
The Dow began sliding just before Obama spoke, at 1 p.m., and had lost its gain for the day by 1:30.
As they head into talks with Obama next week on the fiscal cliff, congressional leaders no doubt remember what can happen on Wall Street when investors are worried and watching Washington's every move.
In September 2008, at the depths of the financial crisis, the House defeated a $700 billion emergency rescue of the nation's financial system, sending the Dow plunging 777 points.
The Dow also slid for eight straight days in the summer of 2011 as politicians squabbled over a deal to raise the nation's federal borrowing limit before eventually reaching an accord Aug. 1.
The index slipped as much as 634 points between July 27 as the political bickering intensified and Aug. 5, when S&P downgraded the national credit rating, citing the weakening of U.S. political institutions as a reason for the cut.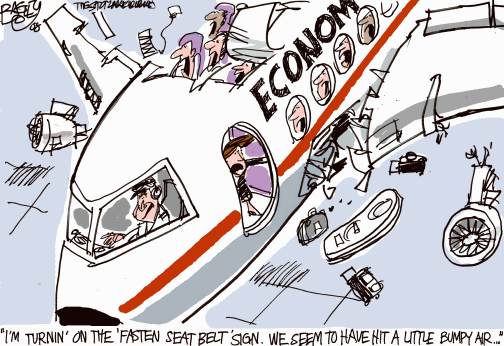 After his defeat in Britain's 1945 general election, Winston Churchill's wife Clementine consoled him: "It may well be a blessing in disguise." Churchill replied, "At the moment it seems quite effectively disguised."
As do any blessings to be found in last Tuesday's election result. The country faces four more years of Barack Obama in the Oval Office, with an increased Democratic majority in the Senate, as a debt crisis bears down upon us at home and our enemies ramp up their efforts abroad. One hopes, for the sake of the country, that on some key issues the president can be persuaded to do the right thing—or, at least, that politics and reality will conspire to pressure the president to do the minimally acceptable thing.
It could happen. Obama won fewer votes than in 2008, and Republicans still control the House and have 30 governors. The public, according to the exit polls, still considers itself more conservative than liberal and, by about 10 points, prefers a government that does less to a government that does more. Obama, though no longer facing reelection, isn't free of political constraints.
As for reality, it will continue to mug liberals. It's true that they've gotten used to being mugged and resolutely refuse to press charges. It's true that liberalism has constructed a set of policies, and the modern welfare state a set of incentives and patronage systems, that postpone paying the piper. Still, reality eventually has an effect. The piper's bills do eventually come due.
Conservatives have a constructive role to play over the next four years in applying political pressure and calling attention to reality in ways that will mitigate the destructive impulses of contemporary liberalism. Conservatives can try to ensure the damage done by liberalism is reparable. But damage there will be. In 1777, following the defeat of General Burgoyne's army by the Americans at the Battle of Saratoga, John Sinclair lamented to Adam Smith: "If we go on at this rate, the nation must be ruined." Smith responded, "Be assured, my young friend, that there is a great deal of ruin in a nation." Over the next four years, we're going to test that proposition.