TOWNHALL
Senate Passes Bill to Avoid Fiscal Cliff
by Leah Barkoukis
January 1, 2013
The Senate voted early Tuesday morning 89-8 in favor of the scaled-down bipartisan package that would halt historic tax hikes for many Americans and postpone automatic spending cuts for two months. The bill will now go to the House, which is expected to be back in session at noon today.
The outlines of the deal Mr. McConnell and Mr. Biden worked out included raising tax rates for individuals making more than $400,000 and families with incomes more than $450,000, and extended unemployment benefits for the long-term jobless. It also continued a number of programs from Mr. Obama's 2009 stimulus law, including tax credits for college tuition and for green-energy programs.
The deal included no net spending cuts, however, which left conservative Republicans complaining. Meanwhile, liberal Democrats balked at not holding firm on tax increases for families making more than $250,000 — a stance on which Mr. Obama campaigned.
Regardless of their income, all taxpayers will still see at least some tax increases with the expiration of the payroll tax holiday, which was worth about $1,000 to the average family in 2012. […]
The deal on the table late Monday included a patch to prevent millions of taxpayers from being hit by the Alternative Minimum Tax, and also included an extension of full payments to doctors treating Medicare patients.
The tax rate agreement would see the top marginal rate rise from 35 percent to 39.6 percent — the rate during the Clinton years — for individuals with incomes more than $400,000 and for households with incomes more than $450,000.
The bill is a far cry from ideal. Earlier in the day, Sen. Mike Lee said that what needs to be kept in mind is that even if a deal happens "we will be leaving intact 99 percent of a dysfunctional system – 99 percent of a tax code that's unstable - that produces an inconsistent revenue stream and that's gotten us $16 trillion in debt and has been producing trillion dollar annual deficits." Lee voted against the bill, as did Republican Sens. Rand Paul, Richard Shelby, Chuck Grassley and Marco Rubio.
The question now is whether the bill can pass the House. Breitbart points out that the deal reached "cuts only $15 billion in spending while increasing tax revenues by $620 billion—a 41:1 ratio of tax increases to spending cuts," according to the CBO. Commenting on the lopsided ratio, one House Republican said, "I can't imagine a ratio such as that warming our fiscal hearts."
Remember this?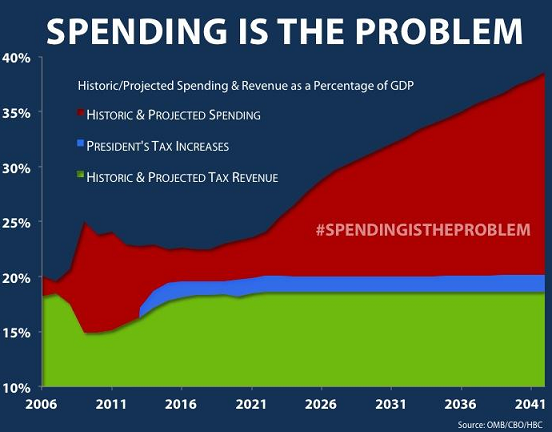 Boehner Can't Get Majority of GOP to Back Deal
American Majority Action, the conservative group that's leading the charge against House Speaker John Boehner continuing in his current position, said Monday evening that Boehner doesn't have at least 50 percent of his House GOP members' support for the fiscal cliff deal that Senate leaders and the White House have reportedly cut.
The deal, between Senate Minority Leader Mitch McConnell and Vice President Joe Biden, reportedly raises spending and hikes taxes on all Americans making more than $450,000. According to AMA, it raises spending by delaying sequester budget cuts.
In an email to reporters late Monday, AMA spokesman Ron Meyer said he's "heard directly from senior GOP conservative members in the House that Speaker Boehner does not have a majority of support from the GOP caucus--not even close."
"These sources tell me Boehner has indicated he won't bring up a plan without 50% GOP support," Meyer said. "The McConnell-Biden compromise does not meet that threshold."
AMA was out in front in accurately predicting the failure of Boehner's fiscal cliff "Plan B" before Christmas – even when House GOP leaders like Majority Leader Eric Cantor and Boehner himself claimed they had the votes to pass it. Boehner ultimately cancelled the scheduled floor vote before the plan would have failed because his own caucus didn't support his effort.
Citing an anonymous "Democratic source," Politico reports that the Biden-McConnell deal "includes a two-month delay of the sequester, which had been scheduled to begin on Jan. 2."
"President Barack Obama spoke with Senate Majority Leader Harry Reid and House Minority Leader Nancy Pelosi about the agreement and both leaders have signed off on it, according to the source," Politico added.
The Senate could vote late Monday on the deal, after--according to the Washington Post--Biden tries to sell it to the Senate Democrats this evening.
If the House is to vote on the deal, it would likely do so on Tuesday--New Year's Day--meaning the country would technically fly over the fiscal cliff before congressional and White House leaders undid the move before any of the damage set in.
Read more:
http://goo.gl/718xm
THE DAILY CALLER
Rand Paul accuses Democrats of raising taxes just to 'stick it to those rich people'
by Alex Pappas
December 31, 2012
WASHINGTON — In a passionate Monday speech on the Senate floor, Kentucky Sen. Rand Paul railed against the notion of raising taxes on the wealthy, and expressed doubts that doing so in a "fiscal cliff" deal would actually help pay off the debt at all.
"You may not get any more revenue," the Kentucky Republican said. "You may not get any more economic growth. But you can say, 'I stuck it to the rich people.'"
In his floor speech, Paul suggested Democrats are insisting on raising taxes on the wealthy because they "campaigned against rich people" in 2012 and "got enough envy whipped up in the country."
The lawmaker made the comments on Monday — just hours before the country goes off the so-called fiscal cliff at the end of the year and automatic hikes for all taxpayers are implemented.
All eyes are on the U.S. Senate, where talks have broken down between the leaders of both parties. Republican minority leader Mitch McConnell is now negotiating directly with Vice President Joe Biden, who is leading the talks for the Democrats.
It's assumed any deal between those two would include extending tax cuts for everyone except a certain percentage of the wealthy. On Monday, Paul said he rejects allowing tax rates to rise on some. (MATT LEWIS: Rand Paul has a point about email snooping)
"We the Republican Party, the party of limited government and low taxation, should have no part in this," he said. "We should have no finger prints on this and we should in no way support anything that raises taxes because it's bad economic policy."
Paul argued that not only is it possible the government will get less revenue by taxing the rich, doing so could also hurt middle-class workers.
"Anybody work for rich people?" Paul asked. "Anybody know somebody who works at a car lot selling expensive cars but that person only makes $40,000 a year but he sells cars that are purchased by rich people?"
He went on to give an anecdote about "the yacht tax" where Congress implemented a "special tax on yachts."
"Guess who lost their jobs?" he asked. "The working guy making $50 and $60,000 a year making the yachts. Because rich people went to the Bahamas to buy their yachts."
"This isn't about getting rich people," he said. "This is about what it'll do to the economy, what it's going to do the average middle-class person who works for a rich person."